I'm a vaporizer enthusiast. I vape daily, and rarely ever use any other means to medicate. The other day, as I was reflecting on my past vaporizer experiences, I thought it would be a good idea to share with ya'll how and why I started vaporizing.
My first exposure to vaporization came in the form of the Vapir Air2 (also referred to as the Vapir Classic), which was one of the first digital vaporizers on the market. I'm fairly certain that one of my friends ordered it from the back of a High Times magazine.
I recall racing home after school to make sure we got the package before his mom did. After reading the instructions and firing it up for the first time, I remember feeling pretty so-so about the whole experience. As a couple of 16 year olds, my friend and I obviously weren't vaping for the health benefits – we just wanted to get high, and look as cool as possible in the process.
The Air2 seemed pretty legit. Considering it was 2002, the technology was fairly advanced for the time, and the build-quality of the unit was impressive. Like all the older Vapir units, the Air2 utilized a chamber that was very reminiscent of a CD drive. You put your herbs in a little disc, when you then inserted into a tray that popped out of the unit. I don't remember much about the whole experience, but I do remember drawing vapor from the whip and getting a very 'plasticy' taste.
While we certainly felt the effects, the communal feeling was that vaping wasn't nearly as satisfying as the bong loads, blunts and bowls that we were accustomed to – and I don't remember using the vaporizer very much after that first session (except for the times we wanted to make some extra money selling ABV to 8th graders, which I've paid ten fold in shitty karma).
My next foray into vaporizing was a few years later in 2005, when a friend of mine brought over his Volcano. Keep in mind, this was back when the Volcano retailed for around $800 (compared to under $500 nowadays).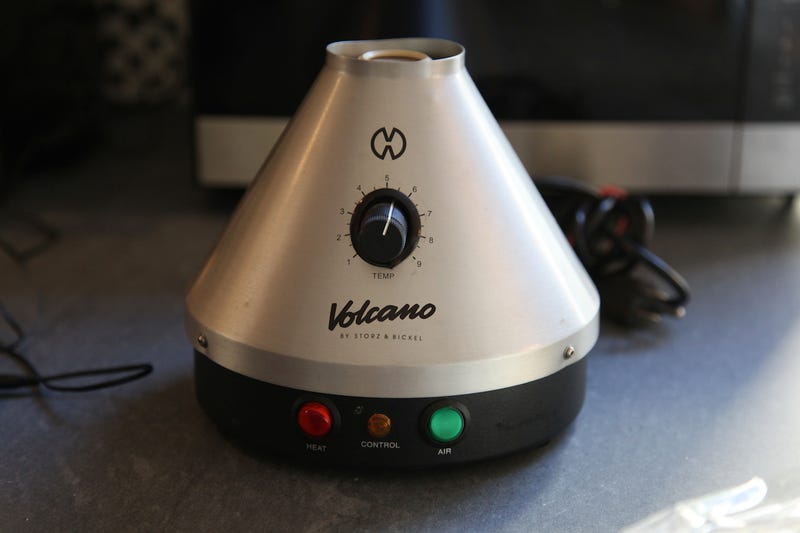 Due to my past experience with the Air2, I was a little skeptical about the Volcano – but a couple of balloon bags to the dome later, and I was hooked. However, due to my lack of cashflow in those Santa Monica College years, it wasn't until several years later when I could actually afford a Volcano of my own.
I recall the day of my Volcano purchase quite vividly. I remember having damn near $600 in my hand, and asking myself, "Is this a good investment?" Even at this point, as I was about to shell out hundreds of dollars on a top-of-the-line vaporizer, I still wasn't really doing it for the health benefits. I mostly just wanted a Volcano because it was a Volcano, and it was "friggin' sweet".
Even after my dream of purchasing a vaporizer had been realized, I still didn't use it regularly. It was mostly something I busted out for friends at parties, and pretty much viewed/treated it as a novelty.
However, about a year into being the proud owner of a Volcano, I came down with a nasty case of bronchitis combined with a sinus infection. I was having a hard time breathing as is, and couldn't hit my pipe or bong without coughing up a lung. This was a turning point for me, and when I finally realized the true health benefits of vaporizing.
Vaping was far easier on my lungs, and was the only way I was able to medicate while I was sick. After I recovered, I decided to ditch the bong and blunts for good, and only use my Volcano. Within a couple of weeks, I was breathing easier than I ever had (especially after bike rides and workouts), and was coughing far less than I used to. This is when I really became interested in vaping, and went from casual consumer to avid connoisseur.
Coincidentally, this is when the vaporizer industry really started to take off. While technologically limited by today's standards, early portables like the Iolite and Magic Flight Launch Box we're something completely new and awesome. Then, Arizer released the Solo in 2011, and the portable vaporizer game (along with customer expectations) forever changed.
For me, the Solo was the first portable to successfully incorporate the type of advanced digital temperature controls found on desktops with the convenience of a battery-powered portable. Even though the Solo wasn't exactly "pocket-sized" (unless you happen to be wearing Jnco's), the vapor quality and density was on another level when compared to other portables of that era.
I believe I purchased my Solo in 2012, and still use it to this day. Even with all the advancements in portable vaporizer technology in recent years, the Solo is honestly still one of the most reliable and functional units on the market. In fact, Arizer's latest portable release, the Air, is essentially just a slimmed down version of the Solo. Aside from a more modern, pocket-friendly design, the Solo operates in exactly the same way as the Air, and features very similar temperate settings and a nearly identical interface.
Fast forward to today, when vaporizers have gone from niche to mainstream, there seems to be a new portable unit hitting the shelves every week. While new desktops don't come along quite as often as their portable cousins, there's still a ton of options for home use. OG manufacturers like Storz & Bickel, Arizer, Vapor Brothers and Vapir have been joined by new kids on the block like Ploom, DaVinci, Haze and 7th Floor as some of the more reputable names in the industry.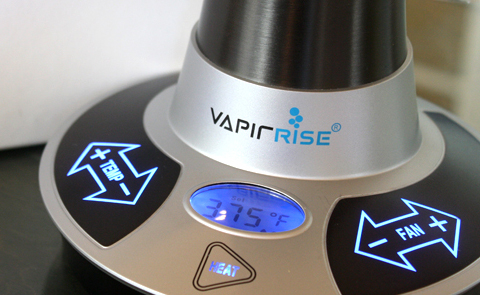 The great thing about competition, is that it drives creativity and innovation. Consumers benefit as manufacturers contend with each other. Nowadays, with so many options to choose from, you'll undoubtedly be able to find a unit that suits your wants and needs.
Dual-function desktop vaporizers like the Vapir Rise, Arizer Extreme Q and Zephyr Ion offer unprecedented versatility for home use. Alternatively, portables like the miVape from Vaporfection appeal to true vapor enthusiasts looking for a near combustion-free experience – while other units like the PAX 2 are as popular in the fashion community as they are in vaporizer circles.
Then, there's the Crafty, which is considered by most to be the creme de le creme of portables – and surprise surprise – it's made by the same company (Storz & Bickel) that brought us the Volcano. Aside from top-of-the-line performance, the Crafty can be synced to your smartphone for more precise temperature control – something that would have seemed crazy just a few years ago.
Looking back, it's interesting to see how vaporizing has blown up in recent years, and it's fun to think about where the industry will be in five more years. What kind of technology will we see utilized by vaporizers in the near future? While it's difficult to see how much more advanced these units can get, one thing is certain, I will be using them.