While manufacturers are constantly pumping out model after model of the newest "must-have" vape pens, there are only a few units that consistently rank at the top of their class, and are widely viewed as the best vape pens on the market. Even though they may not offer true vaporization (as vape pens typically heat material through convection, not conduction), pen-style vaporizers continue to be an increasingly popular option for those looking to vape on-the-go due. Let's take a look at what we at Vaporizer-Review consider to be the best vape pens.
DR. DABBER GHOST – $85 (MSRP)
While the aforementioned KandyPens Black Edition is a solid offering, as far as wax pens go, it doesn't get any better than the Dr. Dabber Ghost. Widely viewed as the crème de la crème among vape pens, the name 'Ghost' is synonymous with quality and dependability. Compatible with any type of wax or waxy oil, the Ghost operates at lower temperatures than traditional wax pens, minimizing combustion while simultaneously ensuring only the smoothest, best tasting vapor is produced.
In addition to advanced functionality, Dr. Dabber also anointed the Ghost with super-stealth styling. It's matte black exterior is competed nicely by cool blue indicator lights. High-quality titanium atomizers and numerous attachments and accessories make this unit stand head and shoulders above the rest. Retailing for just $85, the price is right.
The Dr. Dabber Ghost is listed for $85 on every site we searched, but you get free shipping when ordered through this retailer.
KANDYPENS BLACK EDITION – $99 (MSRP)
There's tons of ellipse style (micro-style) pens made specifically for concentrates and waxy oils – so what sets the Black Edition from KandyPens apart from the rest? Aside from it's "murdered-out" aesthetics (we really dig the black-on-black) and matted soft feel, the Black Edition also comes equipped with a lifetime warranty on the battery, as well as lifetime replacement of atomizers for just ten bucks each. These atomizers are uniquely designed and high quality, providing efficient and effective vaporization of any type of concentrate.
Its sleek design and slim size make this vape pen ideal for dab sessions on the road. Quick heat-up time combined with only the highest quality titanium atomizers make for an ultra efficient and effective experience. If you're looking for a powerful wax pen in a small, discreet package – look no further than the Black Edition from KandyPens.
You can get the Black Edition from this retailer for under $100 with free shipping.
V2 PRO SERIES 3 – $60 (BASE KIT)
I'm not typically a fan of "multi-function" units, and tend to think that vape pens built with specificity in mind tend to perform better overall, the V2 Pro Series may have forever changed my opinion that. While most pen-style vaporizers heat herbs through conduction, the Pro Series 3 is the only vape pen that I know of to actually heat herbs through conduction, utilizing a uniquely built herb chamber. In addition to truly vaporizing dry herbs, the V2 also performs beautifully with wax and e-juice, making it a true 3-in-1 unit.
In addition to its enhanced versatility, the Pro Series 3 also features very solid overall build quality, and also ranks high in terms of vapor production and performance. While the base unit only comes with an e-liquid cartridge, a wax and loose leaf cartridge can also be purchased, which will run you about $110 all together.
The V2 Pro Series 3 can be purchased directly from the manufacturers website.
SOURCE ORB – $80 (MSRP)
While most pens herb/wax pens stick to a fairly boring, run-of-the-mill design, we really love the Source Orb's unique styling, which really sets it apart from the competition. It's eye-catching chrome finish is complimented by an extremely sleek and portable design. The actual "orb" attachment consists of four separate parts, including an atomizer base, atomizer and mouthpiece cover. A high-quality variable voltage battery capable of outputs between 3.2V-4.8V is something few other vape pens offer.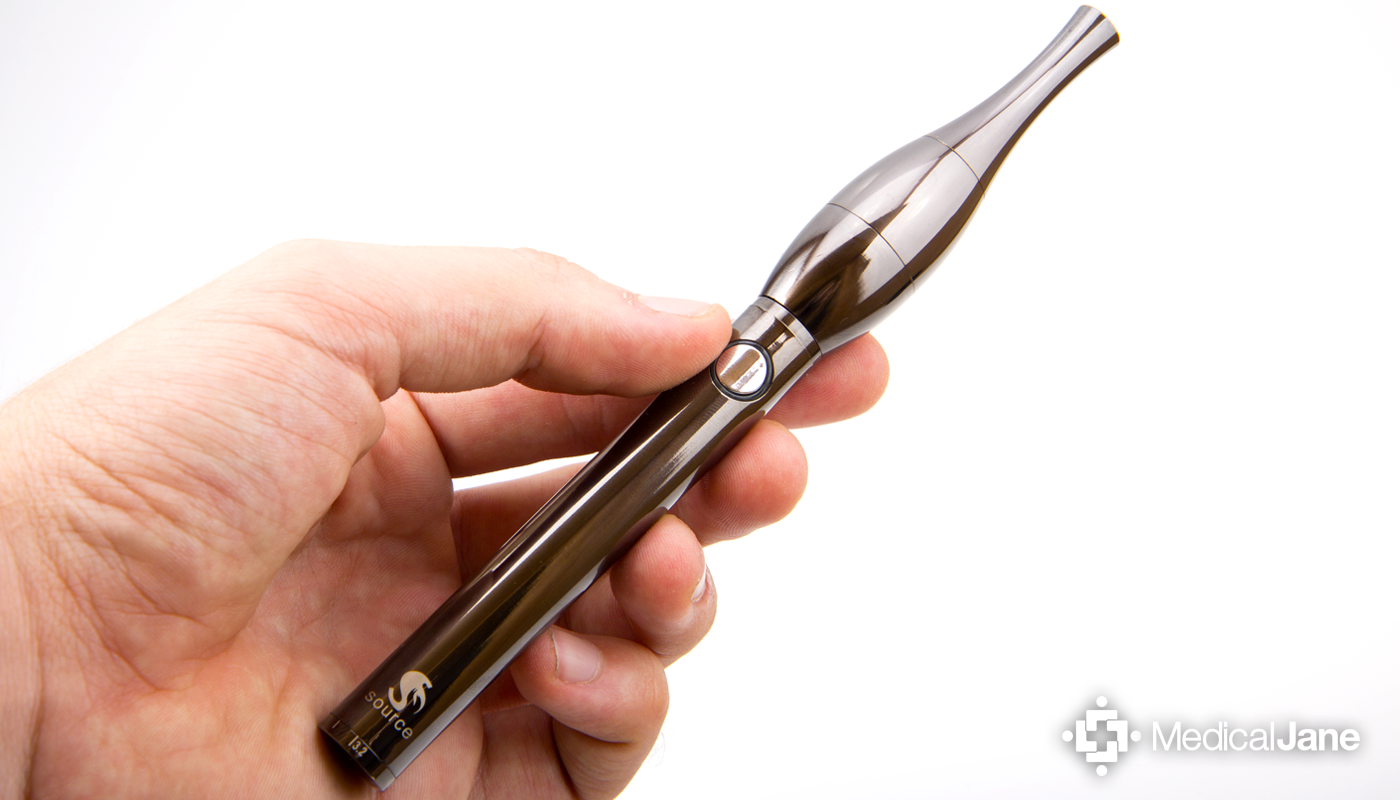 More importantly than looks, the Orb offers unparalleled performance. If you're looking for versatility, look no further. Compatible with both wax and dry herb, this vape comes standard with eight (that's right, eight) different atomizers. Aside from the popular Terra, the Orb also comes with a multitude of high quality atomizers, including single coil, double coil, wicked, wickless, hanging coil and dry herb varieties.
The Source Orb can be purchased from this retailer we recommend.