As little as five years ago, it was nearly impossible to find a decent portable vaporizer for under $150. Nowadays, consumers are reaping the benefits of increased competition among manufacturers, and now have tons of great, affordable options to choose from. While some would argue that you won't quite be getting Crafty or Prima type performance from these wallet-friendly units, they do provide an awesome introductory experience into the wonderful world of vaporization, and will deliver the same type of health benefits you'd receive from more expensive, top-shelf portables. Without further ado, here are our picks for the best portable vaporizer values.
---
5) DaVinci – $129 @ VaporizerGalaxy
Even though it was released back in 2011, the DaVinci is still considered one of the more dependable portables available today. It may not be as sleek or stylish as some of the more recent releases, but priced just under $130, it's without a doubt one of the best all-around values.
Precise digital temperature control is something that was ahead of its time when the DaVinci first hit the shelves, and still isn't something that's offered across the board. The attached flexi-straw mouthpiece is essentially unbreakable, and allows you to carry the unit around without having to worry about damaging any additional parts or pieces in transit. While it's definitely a little heavy by today's standards, that extra weight can be directly attributed to the overall build-quality of the DaVinci, which is excellent.
The DaVinci may not necessarily be considered a top-shelf portable anymore, but it's still a great option for beginners, and for anyone else looking to add a true classic to their collection.
---
4) Cloud V Phantom Mini – $89.99 @ VaporNation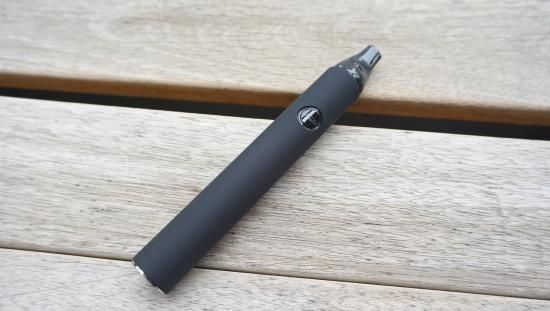 The Phantom Mini (a smaller, slimmer version of the original Cloud V Phantom), is all about simplicity. Because it utilizes a single optimized temperature setting (around 400°F), there's essentially no learning curve to deal with, making it a favorite among vaporizer newbies.
What the Mini lacks in frills and features, it certainly makes up for in ease of use and affordability. Retailing for just under $90, the PM is ideal for those interested in purchasing their first portable vaporizer, but aren't quite ready to drop serious bank on a more advanced unit, like the Haze or the Arizer Air. With that said, the Phantom Mini is also a great option for more sophisticated users who just want a low-maintenance "knock-around" portable for life on-the-go.
If you're looking for multiple heat settings or precise temperature control, then this isn't the unit for you. However, if straightforward simplicity is what you're after, then the Phantom Mini should be at the top of your list.
---
3) Arizer Solo – $168.99 @ VaporizerGalaxy
The Solo from Arizer holds a special place in my heart, because it was one of my very first portables. Like the DaVinci, the Solo was released way back in 2011, and is still a favorite among vaporizer enthusiasts. In fact, the Solo thread is still one of the most active on the Fuck Combustion forums.
Highly regarded for its above-average battery life, build-quality and dependability, Arizer hit a home run with their first foray into the world of portable vaporization. Equipped with with 7 preset heat settings, ranging in temperature from 122° – 410°F, allowing you to choose from an incredibly wide spectrum for an unprecedented level of personalization. It's certainly a tad bulky by today's standards, but that extra girth contributes to the Solo's extended battery life.
Boasting an industry-leading lifetime warranty, the Solo is an INCREDIBLE value at under $170, especially considering it retailed for $300 when it was first released. While it still might be out of some folk's price range, we highly recommend splurging in this case. Treat yo self!
---
2) Pulsar APX – $59.99 @ VaporNation
The APX is the most recently released vape on our list, and is also one of the most affordable. Retailing for around $60, the latest offering from Pulsar really surprised me with how well it performed. In most cases, price is indicative of quality – but in this case – the APX exceeds all exceptions.
Boasting an ultra-lightweight design, the APX is super-small and compact, and can easily slide into your pocket. Because it's so tiny, it only takes about 40 seconds to reach any of the 5 preset temperature settings, which range from 356° – 428°F. You might judge the APX by its price, and think there's no way a true vaporizer could be so inexpensive – and you'd be wrong. Equipped with a fully ceramic chamber, the APX is the real deal, and won't combust your herbs.
This little guy also supports concentrates, and includes a wax tank that can be inserted directly into the heating chamber, allowing for quick and mess-free wax sessions. At this price point, there's simply no other portable vaporizer that can come close to matching the APX's versatility and functionality. Give it a chance – you'll be glad you did.
---
1) Magic Flight Launch Box – $119 @ VaporNation
This should come as no surprise, as the MFLB has been consistently ranked as one of the most efficient and best all-around portable vaporizers since its "launch" all the way back in 2009. The fact that it's still held in such high regard really speaks volumes about its quality and performance.
Not only is the Launch Box one of the smallest, and most uniquely designed portable vaporizers on the market – it's also one of the most wallet-friendly. You can snag the standard maple version for under $120, with other designs and finishes available at additional cost. Aside from its eye-catching aesthetic, my favorite thing about the MFLB is the add-on's and accessories you can purchase. The UFO (Unnamed Filtration Object) and Bottle Rocket provide the optional element of water filtration at a fraction of the cost of other hydro attachments, and feature the same handcrafted look as the Launch Box itself.
While most portables at this price point are typically only coveted by beginners, the MFLB is unique in the sense that it appeals to seasoned vaporizer veterans just as much (if not more) than newbies. Don't judge a book by its cover, and don't judge a vaporizer by its price.
---
HONORABLE MENTION: KandyPens K-Vape, Vapium Summit, Vapir NO2